Port Jeff Brewing Company is located at 22 Mill Creek Road, within the Chandler Square walking mall. The brewery features a 7 barrel system which is capable of producing 217 gallons (about 86 cases) per brew. Beers are packaged in keg, cans, 22 ounce and special release bottle formats for distribution throughout Long Island, New York City, and West Chester County bars, restaurants, and other retail beer outlets.
The facility opened for production in October of 2011. Tours are available on Saturdays at 4PM first come, first serve.
The brewery holds a summer concert series every Wednesday night in June, July, and August. Concerts are free, all ages, rain or shine. The show starts at 7PM. A full listing of artists can be found on our events page.
TASTING ROOM
Directly adjacent to the production facility is our retail store boasting 12 taps and one beer cask engine atop a handcrafted wooden boat bar. Beer can be taken home in keg, growler, cans and special release bottles (when available.) Beer can also be consumed onsite in tasting flights, pints, or single can servings. An updated list of what is currently on tap can be found here:
https://www.beermenus.com/places/5419-port-jeff-brewing-company
We also offer tshirts, sweatshirts, stickers, gift certificates, coasters, and glassware in our tasting room.
We will fill any clean, undamaged growler sized 32 or 64 ounces from any brewery.
Tasting Room Hours:
Noon-8PM (Every Day of the year except Christmas- EVERY DAY, EVERY SINGLE DAY)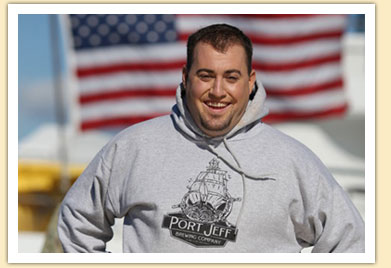 BREWMASTER

Mike Philbrick is a Port Jefferson resident who homebrewed for almost a decade prior to graduating from The World Brewing Academy at Siebel Institute in Chicago. His passion for craft beer led him to bring Port Jefferson their own brewery to showcase his recipes in the popular tourist town and beyond.
When not brewing Mike enjoys time with his wife, four children, and dog, Buddy, either boating or going to the beach.
In The News:
http://portjefferson.patch.com/articles/port-jeff-craft-brewery-set-to-open-within-weeks
www.lipulse.com/blog/article/port-jefferson-brewing-company
archive.brewingnews.com/publication/
www.brewbound.com/News/2011-1-20-Home-brewer_turns_hobby_into_business
portjefferson.patch.com/articles/coming-soon-to-port-jeff-craft-beer